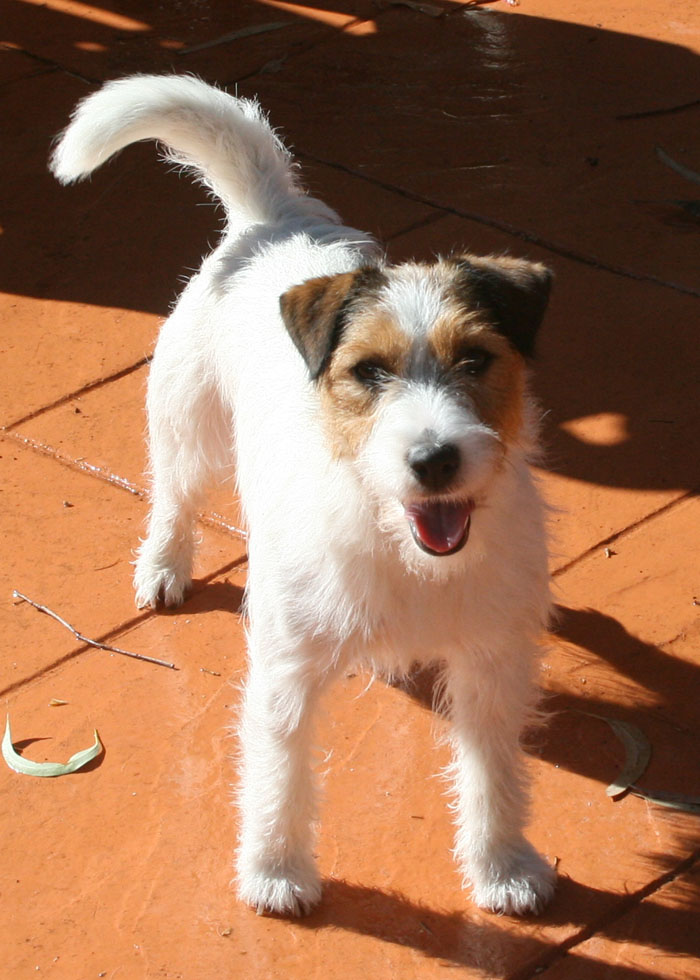 The beautiful Wiridgil/JR Cossette is the latest addition to our family. "Cossy" is 2 years old and she has such an exuberant nature, every day is a party with this pretty girl.
Cossy is a small girl with a hard weatherproof coat, arrow straight legs, lovely confirmation, perfect dentition, and she is easily spanned. Her disposition is so sunny, that little tail never stops wagging. She adores visitors, new adventures, riding in the car, swimming, helping with the gardening - and she is your perpetual shadow; always by your side - and always alert and ready to take on whatever the day might bring her way.
Cossette now lives in Sydney with our friend Mrs. Rita Francis-Little.
Wiridgil/JR Cossette

DOB : 29 September 2007

Russellridge Lord Cosmo

Ch. Bossjack Lord Russell
Kelston/JR Kato Klassic

KelstonJR Molana Mollie
Carisbrooke Cossette
NZ Ch. Enchantment Just An Ace
Aust Ch. NZ Ch. Carisbrooke Casablanca
Admorfun Supreme Choice

Admorfun Fair Dinkum
Ch. Baylock Gin Rickey
Ch. Carisbrooke Regina
Cariad Mystic Meg
Ch. Pineview Poacher
Cariad Perdita
Some of Cossy's relatives :
Carisbrooke Richard, litter brother to Carisbrooke Regina Click on thumbnails to enlarge
Carisbrooke Rebeka, litter sister to Carisbrooke Regina
Carisbrooke Casablanca
Ch. Bossjack Lord Russell