"JACKY" is a 6 year old female Jack Russell in need of a loving new home. Jacky has a smooth coat; no grooming required, and she is an English style Russell with the longer legs. She has been raised with young children. She is used to being around horses and she even plays happily with cats! She was a scared little girl when she was surrendered to the shelter, for no fault of her own. Her owners had left her alone in a backyard with 4ft fences and she escaped. Jacky now feels she has to look for escape routes everywhere - so we are working on confidence-building exercises with her. She acts as though she has been confined to a small yard for a long period of time. She is not hand-shy, she is quiet tempered and gentle – for the most part; the throwing of a tennis ball sends her into such an excited state it is best to avoid balls games altogether with this little girl. She seems to enjoy the company of other dogs but will sometimes take herself away to a quiet place in the yard to wistfully reflect. Her sad little face peps up when she has one-on-one time with you. Jacky is a beautiful little lady, only 11 inches tall, who has been de-sexed, microchipped, fully vaccinated and vet checked, and she has been crate trained to sleep quietly throughout the night. She is underweight at only 3 kilos, but is eating well so should put her weight back on in no time. She has been trained to walk obediently on a loose lead at your left side and she really enjoys her daily walks. Jacky loves nothing more than to be with you and will follow you everywhere you go (in fact, she is curled up asleep on a lambswool under my feet as I type this). She would make a wonderful addition to any quiet household with a family prepared to take her on a daily walk and give her plenty of exercise. Please contact Lindy for more information about Jacky.
Lindy@jacklands.com Tel 0755000168 or 0429492978.
A rescue story
As Jack Russell rescue officer for Queensland I have saved more than 100 dogs from death row, but the case of one particular little girl really stood out for me beyond all others :-
Venus

Venus was a sorry sight when she was seized by the RSPCA. She was trembling, underweight, terrified of people, was covered in wounds, had matted hair that was pinching her skin, and her legs were stained orange from being penned in her own waste all her life. Poor little Venus didn't know much about life except what it meant to be a breeding machine in a puppy factory. We brought Venus home with us to help build her confidence and health and teach her what the world was all about. I trimmed her coat and told her what a pretty girl she was and she responded with such pride.
She turned the corner from that day on and her transformation was nothing short of dramatic. She became a bright, happy little miss, eating up a storm, putting on weight, and spending her days playing with her toys and new friends.

Venus was adopted by Joe and Ron who provide her with the most wonderful family home where she will be happy and loved for the rest of her days. She now lives the life of a cherished family member, sleeping on beds, playing with "Timmy" her doggie best friend, and Venus is a regular at the beauty parlour.
Please sign the petition to help close Puppy Factories
http://www.closepuppyfactories.org/hibd.html
Everytime someone buys a cute puppy from a pet shop window, they are condemning its mother to more pain and suffering in the future.
Venus is now spayed and will never have to endure that old life again, thanks to the kindness, love and generosity of Joe and Ron.
Liam is a one year old Parson Russell Terrier pup searching for a new forever home with an active family. Liam is neutered, vaccinated, wormed, and he is on Advocate monthly heartworm, flea and tick prevention. He is the sweetest boy, with a very gentle nature, and he is in excellent health. Liam has a rough coat that requires minimal grooming. He is mellow and obedient and he is a pleasure to take on walks each day as he has been trained to heel closely by your side on a loose lead. Liam loves human company and he has been raised with children. Liam enjoys the company of other dogs and he is a submissive boy. He has been trained to stand patiently on the table for his grooming and nail trimming, and his check-ups at the vet. For more information about Liam please contact us . Lindy@jacklands.com Tel (07) 55000168.
"L I A M" Update : Liam has now been adopted by Molly and Jack.
Rescue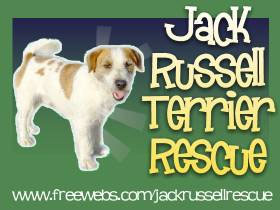 We often have contact with rescue dogs that are looking for new homes. If you are interested in adopting one of the Queensland rescue dogs on our list please contact Lindy on Tel : (07) 55000168.
Sydney readers can contact Jack Russell Rescue NSW by visiting their website http://www.freewebs.com/jackrussellrescue/
Can you help?
Queensland Carers are always needed, along with any supply donations (food, toys, pet carriers, bunny rugs, nurser bottles).
Finding Beau !
Let's all join hands and try to help Susan find Beau. http://www.findingbeau.com